Location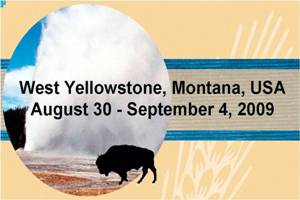 West Yellowstone, Montana, USA
This beautiful destination at the gateway to Yellowstone National Park is well suited to a high quality integrated scientific event. The conference venue set amongst the natural wonders of Yellowstone provides a cohesive arrangement of accommodation, lecture room, dining and display common area. The vendors tables will be integrated amongst the posters in the building where all the meals, social events and coffee breaks are planned. We believe you will find this provides you ideal opportunities for interaction with colleagues and company representatives.
Bring family and let them easily explore the geysers, bubbling mudpools, brightly colored thermal features, and abundance of wildlife such as bears, bison, coyote and elk that have made the USA's first national park such a popular tourist destination for folks from around the world. The conference excursion on Wednesday afternoon will allow all participants to explore these natural wonders.
Background
ICMRM
The objectives of the ICMRM are to communicate recent developments in high-resolution, spatially resolved magnetic resonance methods and applications. Meeting strength stems from the eclectic background of participants and a diverse venue that has traditionally focused on non-clinical applications in science and engineering areas. The 1st ICMRM was held in 1991 in Heidelberg and was originally known as the "Heidelberg Conference". It is the biannual conference of the Division of Spatially Resolved Magnetic Resonance of the AMPERE Society.
CMMR
The 9th Colloquium on Mobile NMR (CMMR9) will be part of the conference. The objectives of the CMMR are to communicate the development and applications of Mobile Magnetic Resonance, and to promote hands-on experience of mobile NMR equipment.
ICMRM Book
Following the 9th ICMRM, a book including a number of the significant advances in the field of spatially resolved magnetic resonance was prepared. This book is available through Amazon (CLICK HERE) .
Links to previous Meetings